Sustainable Tourism Development Strategy for Oulanka National Park 2011
Julkaisija
Metsähallitus, Vantaa, 2011
Vaihtoehtoinen kieli
Julkaisusarja
Metsähallituksen luonnonsuojelujulkaisuja. Sarja C 112
ISBN
978-952-446-916-6 (pdf)
Tiivistelmä
Oulanka National Park is located in a region of NE Finland that is important for tourism, midway between the tourism centres of Ruka-Kuusamo and Salla. Thanks to its unique natural features, diverse facilities, and a long history and strong image as a destination for hiking and outdoor activities, the park is popular both in terms of visitor numbers and as a regional tourist attraction. The park welcomes almost 170,000 visitors annually. Visitors' spending boosted the local economy by an estimated 15 million euros in 2010.
This sustainable tourism development strategy aims to assess the factors that attract visitors to the park, examine the current state of tourism in Oulanka, and define objectives for the future. The strategy is also a response to the challenge set by the surrounding Kuusamo Lapland tourism region that Oulanka National Park should encourage the growth and internationalisation of tourism as part of the region's efforts to become more of a year-round destination.
As visitor numbers grow, it is vital to ensure that this increase and related developments remain sustainable. Sustainability is to be monitored using a method known as "limits of acceptable change". The latest surveys indicate that recreational activities and nature tourism have not endangered the national park's natural values or reduced visitors' levels of satisfaction. Measures to promote sustainability include structures designed to prevent erosion, measures to channel visitors' movements, communications work, and cooperation with stakeholder groups.
Attractions that offer unforgettable experiences in unspoilt natural settings like Oulanka National Park play a vital role in the context of increases in nature tourism, summer tourism, and the importance of national parks. The Russian frontier runs along the eastern edge of Oulanka National Park, and just over the border lie attractions including Russia's Paanajärvi National Park, representing huge potential for cross-border nature tourism. Oulanka National Park already collaborates closely with its twin park Paanajärvi.
Oulanka National Park intends to become a major asset for tourism in NE Finland as the region's most important national and international attraction. To achieve this, local actors must collaborate effectively on national and international communications work, and on issues including trails, visitor centres and other facilities. In the context of services and activities the emphasis will not be on expansion, but on enhancing the impacts of existing facilities.
This sustainable tourism development strategy has been drafted simultaneously with a new management plan for Oulanka National Park. The necessary data was compiled through surveys of visitors and local businesses in 2009, and through close collaboration with stakeholders. The strategy has been produced by the Oulanka Cooperation Group, which is made up of representatives of the park's key stakeholders.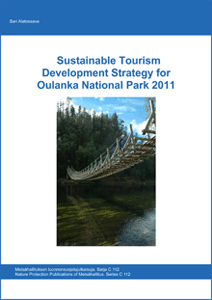 Lisätietoja
Oulangan kansallispuiston luontomatkailusuunnitelma 2011